Joerg Baumeister
Broad, international experience in large research, construction, and educational projects.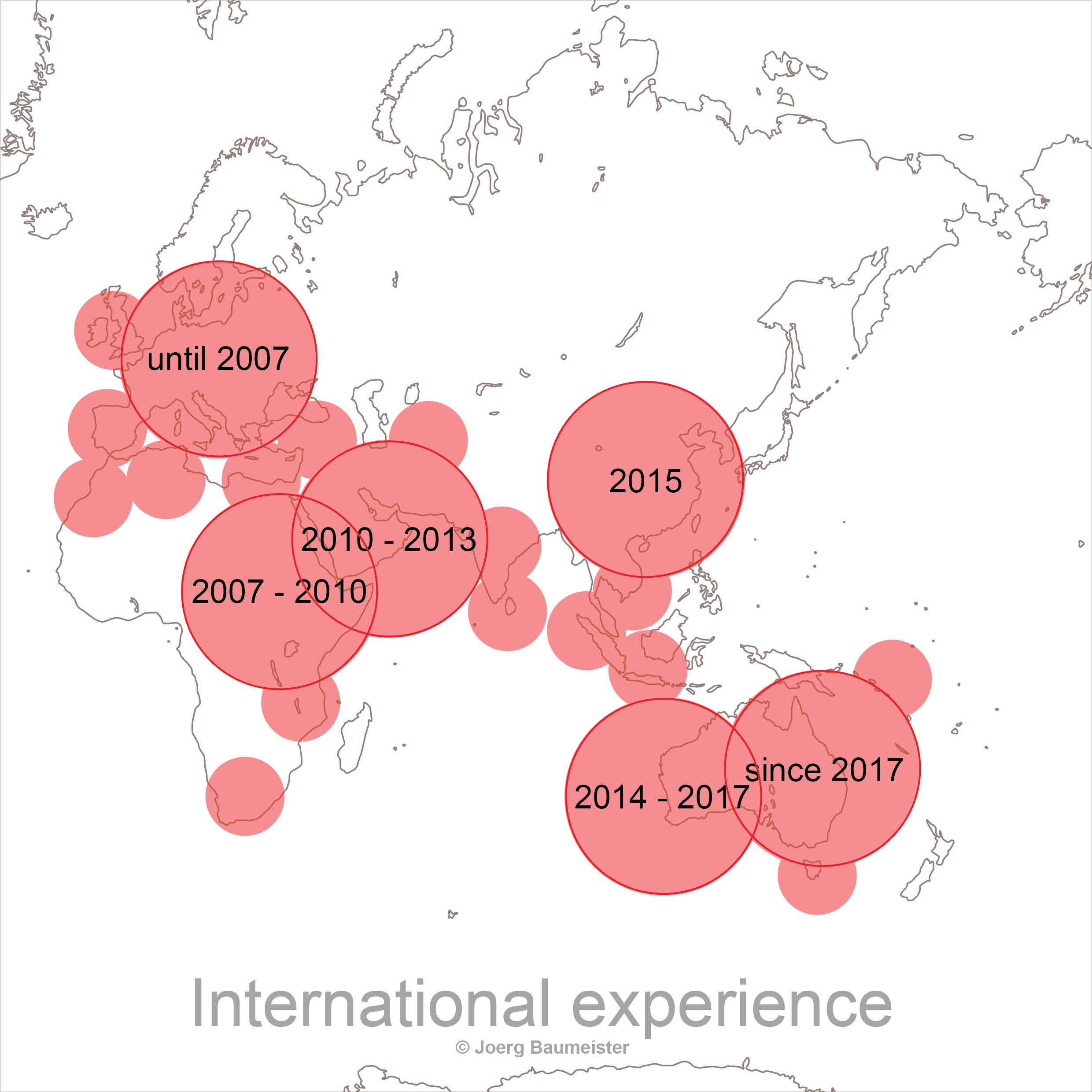 International track record
Joerg Baumeister is a researcher, consultant, inventor, practitioner, and educator for more than 25 years throughout Europe, Africa, the Arabian Peninsula, China, and Australia.

Since August 2017, he is the Founder and Principal of the SeaCities Lab at the Cities Research Institute which develops and implements water-adapted urban solutions and floating structures for climate change (aquatecture) and Full Professor at Griffith University, Australia.

He received several international awards like the Schinkel Award, the German Urban Design Award, the Bauwelt Award, and several 1. Prizes for international competitions.
- January 2014 - August 2017: Director of the Australian Urban Design Research Centre (AUDRC) and Winthrop Professor, University of Western Australia
In parallel (February 2015 - July 2015): Visiting Professor at Zhejiang University, Hangzhou, China
- December 2010 - December 2013: Professor at the German University of Technology in Oman with RWTH Aachen
- September 2007 - November 2010: DAAD Professor and Founding Chair at the Ethiopian Institute of Architecture, Building Construction and City Development, AA University
- June 2007: Higher Doctorate of Engineering (Dr.-Ing.) at Technical University Braunschweig, Germany
- June 1996 - August 2007: Founder and Principal of Baumeister Architekten Ingenieure
- Since 1995: Member of the Chamber of Architects, Germany
Experienced project leader
Apart from educating "his" students, Joerg Baumeister's passion is the development and execution of international research, consultancy, and construction projects. His latest successful CRC Blue Economy grant application for the development of a patented off-shore aquaculture structure has attracted $2 Mio for phase 1 (conceptional development).

Project partners of previous projects include the United Nations / UNHCR, World Bank, African Union, European Union (7th Framework Program / Horizon), NGOs and GOs like the GIZ, the Australian Research Council, various Ministries e.g. for Research, Housing, Tourism and several city councils.
How to contribute
Our Mission is to explore and develop novel solutions for climate change. We broaden thereby our focus from the land towards the sea due to higher efficiencies and availability of space.

The dimension and speed of required new solutions need massive support!

Therefore we are looking for
1. Highly motivated PhD researchers with an excellent educational background in environmental science, engineering, or architecture.
2. Sponsors to prototype aqua-pods for the SeaOasis project to improve smallholders' global food security.
3. Industry partners / investors to develop the patented SeaBase project further
for operations inside and outside Exclusive Economic Zones.

Thank you for your interest and feedback! Joerg Baumeister
I am interested in a collaboration!


Latest News:
12. May 2022: Presentation at Blue Economy Participants Workshop
4. May 2022: Presentation at the Australian Academy of Technology and Engineering (ATSE)
28. April 2022: Finally, all agreements have been signed for the 2 $Mio Project 1.21.002 - Novel Offshore Fish Pen Design: Phase 1 (Conceptual Development) lead by Joerg Baumeister!
22. April 2022: Presentation at the Seasteading Institute
19. December 2021: Jury member of NeOasis competition at World Expo Dubaiwith UN Habitat
19. November 2021: Key Note Presentation at 3. International Symposium of Design for Living with Water in Turkey
2. November 2021: Key Note Presentation and Member of Executive Board at World Expo Dubai